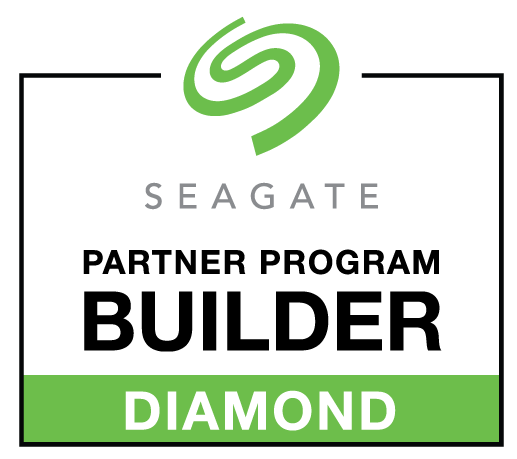 Seagate IronWolf NAS

The Best Internal Drives for Network-Attached Storage (NAS)

IronWolf for NAS—because running a business requires 24x7 agility, balance, and advanced management.
SATA Hard Drives
IronWolf™ and lronWolf Pro are designed for everything NAS. Get used to tough, ready and scalable 24x7 performance equipped with Rotational Vibration (RV) sensors that handle multi-bay environments. With AgileArray™ technology, these drives deliver the best NAS experience possible, focusing on superior reliability, outstanding RAID performance and power management.
Best-Fit Applications:
Up to 24-bay network attached storage (NAS)
Desktop RAID and servers
Multimedia server
Built especially for:
Up to 16TB Capacity
5400-RPM Spindle Speed
180TB/Yr Workload
Built especially for:
Up to 16TB Capacity
Up to 7200-RPM Spindle Speed
300TB/Yr Workload
Solid State Drives (SSD)
Seagate IronWolf™ 110 SSD solutions are designed for NAS environments that need superior reliability, RAID performance, and power management. AgileArray™ rmware keeps your NAS enclosure maximized for 24×7 and multi-user environments. DuraWrite™ technology allows for increased performance and reliability.
Best-Fit Applications
All-ash array NAS servers
Tiered caching in enabled NAS
Creative pro, SMB, SME NAS
Solid State Drives (SSD):
Built especially for:
Up to 4TB Capacity
Up to 560/540MB/s Sequential Performance
Up to 5600TB Endurance
Built especially for:
Up to 3.84TB Capacity
Creative pro, SMB, and SME
Up to 7000TB Endurance
Built especially for:
Tiered caching on enabled NAS
Creative pro NAS
Small, medium enterprise NAS
Built especially for:
Commercial and Entry-Level Enterprise NAS
High performance Workstations and PCs
U.2 to M.2 adapters for U.2 NVMe SSD drive bays