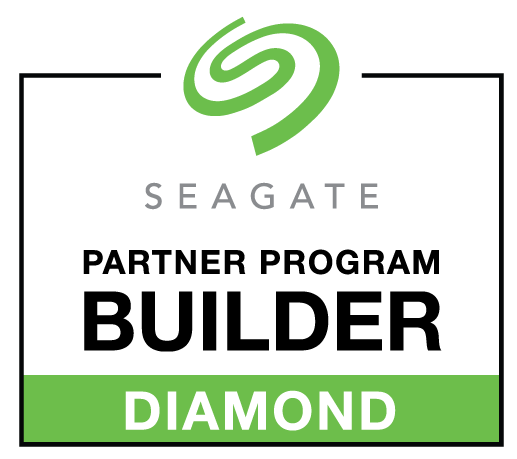 Seagate Lyve Drive Rack - Open Object Storage, Simplified

Store more for less with this tightly integrated solution.

Lyve Drive Rack Release One
Lyve Drive™ Rack is the object storage component for the Lyve Drive data platform.
Product Highlights
Lyve Drive Rack R1
CORTX Object Storage software
Low-cost S3-compatible private cloud
Application-level load balanced
Seagate 5U84 storage enclosure with 84 HDDs (1.5PB with 18TB drives)
Ready for highest-capacity HDDs
Active-Active HA
Democratizing High-Capacity Storage for Data-Intensive Workloads
Cost should not be a barrier to storing more data. Lyve Drive™ Rack is a converged object storage infrastructure solution for modern, leading-edge applications like artificial intelligence and big data—enabling efficient capture and consolidation of massive, unstructured data sets at the industry's lowest cost per petabyte.
Open Source
Flexible
Leverage open source contributions for faster access to innovations while your deployment remains fully supported by Seagate.
---
Lower TCO
Affordable
A tightly integrated hardware and software bundle that supports data-intensive workloads, with up to 1.5PB of raw capacity.
---
Easy Deployment
Simple
Scalable, versatile, and fully tested architecture simplifies installation, integration, and maintenance, with zero vendor lock-in.
Reliable Design
Resilient
Self-healing technology eliminates downtime while assuring high availability and integrity of your data.
Features:
Store More for Less
Object storage software licensing often exceeds the cost of storage capacity.
Seagate is revolutionizing enterprise storage with Lyve Drive Rack by lowering the cost of storage software and enabling higher capacity workloads. We integrate CORTX™, our open source, mass capacity object storage (up to 1.5PB of raw storage capacity) with Seagate hardware to let you store more data.
Store up to 4x the data for the same budget
Community-driven features leverage leading-edge HDD capacity, performance, and efficiency innovations
Tightly integrated, converged hardware and software bundle allows you to economically consolidate massive unstructured data sets required for AI, machine learning, and high-performance compute training models
---
Powered by CORTX Software
CORTX object storage software reduces latency and increases drive utilization.
Designed by data scientists and enterprise storage experts, CORTX brings hyperscale capabilities to your data center
100% open source and community-driven design facilitates fast and cost-effective innovation
CORTX™ is enterprise-hardened, fully tested, and supported by Seagate when bundled with Lyve Drive Rack
Adaptable, scalable, and versatile architecture lets you build mass capacity storage solutions with zero vendor lock-in
---
Easy Deployment and Maintenance
Simplify installation, integration, and maintenance of mass capacity object storage.
Hardware agnostic—working with virtually any server and networking configuration to provide customers with true design flexibility
Includes full stack support from Seagate, enabling lower maintenance cost, ease of installation, and reduced downtime
Quickly and easily deploy object storage with CORTX automatic provisioner. No need to run through pages of setup instructions
Supports S3 cloud native protocols—simplifying multicloud configurations and storage management
---
Reliable, Safe, Secure
Self-healing technology assures high availability, repair, and integrity.
Lyve Drive Rack incorporates Seagate ASICs, purpose-built as an erasure coding engine for optimal performance and efficiency
Seagate ADAPT software dramatically reduces failed disk rebuild time and improves erasure coding efficiency
Key Advantages
CORTX™ Object Storage System is an open source, software-defined object storage with vibrant community support.
Designed for maximum scalability, resiliency, and hardware efficiency. CORTX was designed by high-performance computing architects.
CORTX has no global locks.
CORTX distributes metadata management across all servers for maximum scalability and concurrency.
Hierarchical erasure coding provides the multi-tiered data protection across various data center failure scenarios for a scale-out solution.
Vertical integration benefits. Low-level hardware innovations like HAMR and multiactuator can be co-developed with the software. Any new capabilities introduced in hardware can be addressed in the software, thereby ensuring that new hardware can be quickly produced.
CORTX functionality is available for enterprise customers as part of the Lyve Drive Rack offering running Lyve CORTX, a certified and supported version of CORTX open source code. It is compatible with a broad range of servers that meet the appropriate requirements in terms of minimum number of processors, memory, and networking.
Easy to set up, maintain, and deploy. All system components—power supply units, system cooling fans, the controller, the firmware, and the drives—are developed and optimized to work together seamlessly. This reduces support calls and eliminates technical learning curves.
CORTX Object Storage Solution with high capacity and high performance.
Build in security with ADAPT technology. Protect the most valuable business assets with Seagate Secure™ cybersecurity features and intelligent firmware. Rebuild drives faster and reduce downtime with Seagate ADAPT data protection technology.
Specifications
Capacity
Configuration Capacity (raw)
up to 1.5PB (with 18TB drives)
Max Number of Objects
2120
Max Object Size
5TB
Software
Operating System
RHEL 7.7
Object Store
CORTX™ v1.0
Management Interface
Cloud Storage Manager with WebUI, CLI, and RESTful API
Data Protection
Seagate ADAPT Erasure Coding
Reliability
Data Integrity
Synchronous Data Writes
Connectivity
Protocols
S3-compatible
Client Connectivity
2×50Gb/s
Physical Dimensions
Rack Space (rack units)
7U
Rack Depth
1M
Physical (servers, ×2)
Height (1U): 43mm / 1.7 in | Width: 437mm / 17.2 in | Depth: 754mm / 29.7 in | Weight: 18.6kg / 41lb
Physical (5U84 storage enclosure)
Height (5U): 222.3mm / 8.75 in | Width: 444.5mm / 17.5 in | Width (w/ear): 483mm / 19.01 in | Depth: 981mm / 38.63 in | Weight (empty): 64kg / 141 lb | Weight (loaded): 135kg / 298 lb
Power
Power Characteristics
100-240vAC (compute), 208-240vAC (storage)
Environmental
Temperature, operating
5°C to 35°C (41°F to 95°F)
Temperature, nonoperating
–40°C to +70°C (–40°F to +158°F)
Airflow
System must be operated with low pressure rear exhaust installation. Back pressure created not to exceed 5Pa (~0.5mm H20).
Altitude, operating
–100m to 3000m (–330 ft to 10,000 ft) Maximum operating temperature is de-rated by 1ºC above 900m (3000 ft)
Altitude, nonoperating
–100m to 12,192m (–330 ft to 40,000 ft)
Shock, operating
5.0 Gs, 10ms, ½ sine pulses, Y-axis
Shock, nonoperating
30.0 Gs, 10ms, ½ sine pulses (Z-axis); 20.0 Gs, 10ms, ½ sine pulses (X- and Y-axes)
Vibration, operating
0.21 Grms, 5Hz to 500Hz random
Vibration, nonoperating
1.04 Grms, 2Hz to 200Hz random
Acoustics
Operating Sound Power ≤ LWAd 8.0 Bels (re 1 pW) @ 23°C