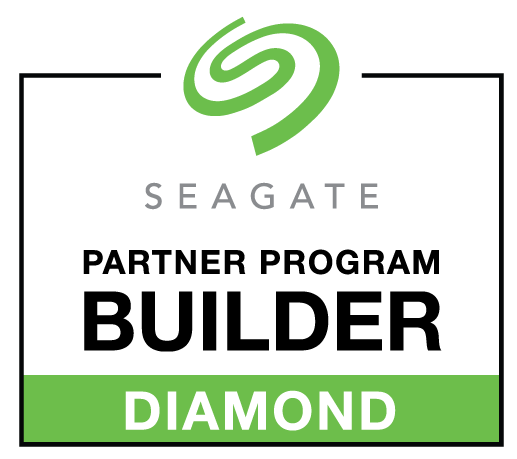 Seagate Exos 5E8 3.5-Inch Internal SATA Enterprise Hard Drive

Perfect for archival data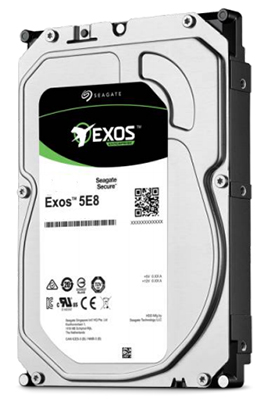 Sorry, this product is no longer available, please contact us for a replacement.
Overview:
Trusted. Efficient. Versatile.
For everything Enterprise storage, there's Exos E—the safest and most powerful way to traverse the datasphere and harness its full potential. Always on and always working, the Exos E series of hard drives is loaded with advanced options for optimal performance, reliability, security and user-definable storage management. Built on generations of industry-defining innovation, Exos E is designed to work and perform consistently in enterprise-class workloads.
Super-Efficient Archiving
The Seagate Exos™ 5E8 hard drives are the most affordable enterprise-class drives designed specifically for active-archive applications in cloud storage, cold storage and online data archiving. Exos 5E8 provides power-efficient, high-density storage for 24×7 data center operations.
Made for data archiving, Exos 5E8 enables highly-affordable cloud storage with data center reliability.*
Up to 8TB capacity, SATA interface
Engineered for 24×7 operation and 180TB/yr workload
Perfect fit for workloads focused on sequential writes
Key Features and Benefits
High capacity, energy efficiency and lowest TCO
Over 30 years of trusted reliability for online long-term storage
Engineered for 24×7 workloads of 180TB per year
Drive down costs with up to 2TBper-disk hard drive technology
SATA 6Gb/s interface optimizes burst performance
AcuTrac servo technology for dependable performance
Free Seagate DiscWizard™ software
Best-Fit Applications
Cost-effective online archiving
Object storage
Big Data cold storage
Cloud active archive
Low random-write workloads
* Formerly Archive HDD
Features:
Reliable Active-Archive Enterprise Hard Drive
Exos 5E8 hard drives support up to 8TB per drive1 and offer affordable cold storage for data center infrastructures requiring a highly reliable enterprise hard drive. The Exos 5E8 hard drive helps to catalyze the datasphere, enabling data center architects and IT professionals to deliver trusted performance, rock-solid reliability and ironclad security.
Exos 5E8 is designed to best perform when write workloads are primarily sequential in nature. For more random write workloads, we recommend Exos 7E8.
Store More Data at Lower Costs
The Exos 5E8 hard drives are backed by an 800,000 hour MTBF and support workloads of 180TB per year. The Exos 5E8 offers a low cost/TB online data archive solution with a SATA 6Gb/s interface that optimizes burst performance, and on-demand, time-to-ready PowerChoice™ technology to help ensure low power consumption.
Efficiently Lower Your TCO
Exos 5E8 ensures archival data confidence with a reliable, low-power data retrieval based on Shingled Magnetic Recording (SMR) technology for efficient cold storage operations even in harsh data center environments. The Exos 5E8 serves up impressive sequential throughput and is intended for use in large-scale data centers where density, power consumption, data integrity and data retrieval are paramount.
Enhanced Enterprise Reliability, Data Protection and Security
Exos 5E8 drives deliver exceptional security to help protect data where it lives—on the drive. Exos 5E8 safeguards firmware with Secure Downloads & Diagnostics.
1 Seagate recommends validating your configuaration with your HBA/RAID controller manufacturer to ensure full capacity capabilities.
2 Exos 5E8 hard drives are not intended for surveillance or NAS applications, and you may experience lower performance in these environments.
Specifications:
Specifications
8TB
Model Number
ST8000AS0003
Interface
SATA 6Gb/s
Performance
Cache, Multisegmented (MB)
256
SATA Transfer Rates Supported (Gb/s)
6.0/3.0/1.5
Max. Sustained Transfer Rate OD (MB/s)
190MB/s
Configuration / Organization
Heads/Disks
8/4
Bytes per Sector
512e
SMR Technology, Drive-Managed
Yes
Rotational Vibration (RV) Sensor
Yes
Voltage
Voltage Tolerance, Inc. Noise (5V)
±5%
Voltage Tolerance, Inc. Noise (12V)
±10%
Reliability / Data Integrity
Load/Unload Cycles
300,000
Nonrecoverable Read Errors per Bits Read, Max
1 per 10E14
Workload Rate Limit (TB/Year)
180
Power-On Hours per Year (24×7)
8760
MTBF
800,000hr
Warranty, Limited (years)1
3
Power Consumption
Startup Power (A
2.0
Operating Mode, Typical (W)
5.3
Idle Average (W)2
3.7
Standby Mode (W)
<1.0
Sleep Mode (W)
<1.0
Environmental/Temperature
Operating (ambient, min °C)
0°C
Operating Temperature (drive case max °C)
60°C
Nonoperating Temperature (ambient °C)
-40 – 70°C
Low Halogen
Yes
RoHS Compliance
Yes
Physical
Height (mm/in)
26.11mm/1.028in
Width (mm/in)
101.6mm/4.00in
Depth (mm/in, max)
146.99mm/5.787in
Weight (g/lb)
605g/1.334lb
Carton Unit Quantity
20
Cartons per Pallet/Cartons per Layer
40/8
1 Extended warranty products available. Consult your distributor for details.
2 During periods of drive idle, some offline activity may occur according to the S.M.A.R.T. specification, which may increase acoustic and power to opertional levels. Consult the product manual for more information.