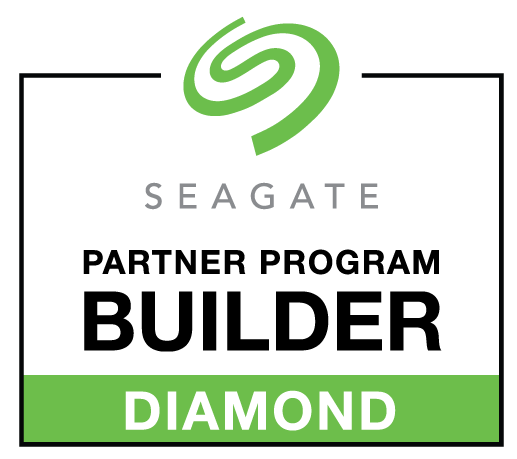 Seagate All Flash, Hybrid & Disk Arrays

Safeguard critical data the right way.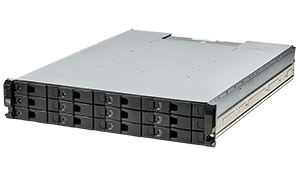 Max Drives/Enclosure: 12
Form Factor: 2U rack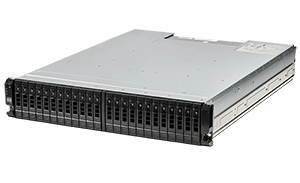 Max Drives/Enclosure: 24
Form Factor: 2U rack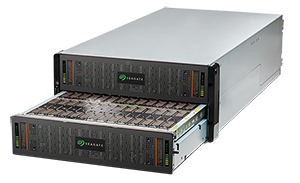 Max Drives/Enclosure: 84
Form Factor: 5U rack
Performance Value and Simplicity
Seagate Exos X advanced storage arrays are petabyte-scalable, rack-mounted block storage systems with advanced data protection options and an abundance of storage features powered by VelosCT ASIC-driven controllers. A value-rich solution for applications that require massive capacity, performance, low latency, and always-on resiliency. Perfect mass storage for conventional data centers, and cloud infrastructure applications.
Ultimate Availability
Continuous Service
Seagate's self-healing technology enables superior, always-on availability with ADAPT erasure code disk group rebuilds and Autonomous Drive Regeneration (ADR) that renews drives automatically in place.
---
Lightning-Fast Data Access
Best in Class Innovation
Seagate Exos X advanced storage arrays with VelosCT™ ASIC-based controller architecture provide massive performance improvements for small-to-enterprise deployments.
---
A Full Software Stack
Enterprise Features
Including numerous disk group protection options, ADAPT, and ADR along with essential software features like virtual pools, thin provisioning, SSD read cache, encryption, auto-tiering, snapshots, and asynchronous replication.
Maximum Simplicity
Superior Usability
An enterprise-grade design boasts rich features for any size company to easily integrate, manage, and maintain the system with automatic configuration options, hot-swappable components, and robust standards-based management capabilities.
Contact a Seagate Solution Specialist to Learn More!
Exos X 2U12
Exos X 2U24
Exos X 5U84
Exos CORVAULT
Max Capacity Per Enclosure
12 drives
24 drives
84 drives
106 drives
Expansion
10 Enclosures Max (Includes Master)
120 Drives Max
10 Enclosures Max (Includes Master)
240 Drives Max
4 Enclosures (Includes Master)
336 Drives Max
1 Enclosures
106 Drives Max
Form Factor
2U rack
2U rack
5U rack
4U rack
Host Port Options
4 per controller 8 per system SFP+/SFP28 or mini-SAS HD
4 per controller 8 per system SFP+/SFP28 or mini-SAS HD
4 per controller 8 per system SFP+/SFP28 or mini-SAS HD
4 per controller 8 per system mini-SAS HD
Host Interface Options
32/16Gb FC
25/10GbE iSCSI
10GBASE-T Auto to 1Gb
12Gb SAS
32/16Gb FC
25/10GbE iSCSI
10GBASE-T Auto to 1Gb
12Gb SAS
32/16Gb FC
25/10GbE iSCSI
10GBASE-T Auto to 1Gb
12Gb SAS
12Gb SAS
Data Protection Options
Improved ADAPT, NRAID RAID 0, 1, 5, 6, 10
Improved ADAPT, NRAID RAID 0, 1, 5, 6, 10
Improved ADAPT, NRAID RAID 0, 1, 5, 6, 10
Improved ADAPT, NRAID RAID 1, 5, 6, 10
High Availability Features
ADR drive support, dual hot-swap controllers, drives, fans, power supplies, dual power cords, hot standby spare, automatic failover, multi-path support
ADR drive support, dual hot-swap controllers, drives, fans, power supplies, dual power cords, hot standby spare, automatic failover, multi-path support
ADR drive support, dual hot-swap controllers, drives, fans, power supplies, dual power cords, hot standby spare, automatic failover, multi-path support
ADR drive support, dual hot-swap controllers, drives, fans, power supplies, dual power cords, hot standby spare, automatic failover, multi-path support
Advanced Features
Virtual pools, Thin provisioning, SSD read cache, Encryption, Auto-Tiering, Snapshots, Asynchronous replication
Virtual pools, Thin provisioning, SSD read cache, Encryption, Auto-Tiering, Snapshots, Asynchronous replication
Virtual pools, Thin provisioning, SSD read cache, Encryption, Auto-Tiering, Snapshots, Asynchronous replication
Pools, SSD read cache, encryption, LDAP