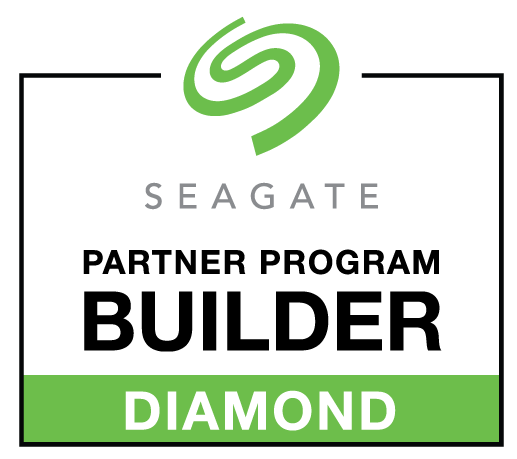 Seagate FireCuda 2.5-Inch Internal Solid State Hybrid Drive

Perfect for PC gaming, high performance PC, creative pro applications, workstations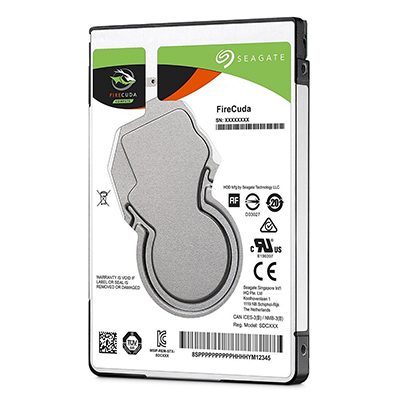 Sorry, this product is no longer available, please contact us for a replacement.
Overview:
The Fastest PC Hard Drive
Combining flash technology with a hard drive platform, the FireCuda 2.5 flash-accelerated hard drive represents the fastest 2.5-inch hard drive available. Play faster, work smarter. FireCuda drives meld the latest NAND flash technology with a traditional hard drive for a compact blend of capacity and speeds up to 5× faster than typical hard drives, all backed by a 5-year warranty.
Key Advantages
Flash-accelerated technology delivers blazing load speeds that allow for nonstop performance, play and productivity up to 5× faster than standard HDDs.
Enormous 500GB, 1TB and 2TB options make FireCuda the highest-capacity 2.5-inch hard drive on the market, providing customers a high-performance experience while being able to store massive amounts of data, all within a thin 7mm z-height.
Green Hybrid™ feature reduces device power consumption, helping users extend their drive's life and keep their costs down with a power-efficient drive.
Multi-Tier Caching Technology™ (MTC) enhances performance by using NAND flash, DRAM and media caching technologies, enabling users to load applications and files even faster.
Adaptive Memory™ technology identifies frequently accessed data, thereby providing the data faster, consuming less power and extending drive life.
The cutting edge never felt so safe—5-year limited warranty is best-in-class for hard drive warranties.
Best-Fit Applications
Mainstream PCs upgrades
High-performance PCs
PC gaming systems
Workstations
Creative professional systems
Features: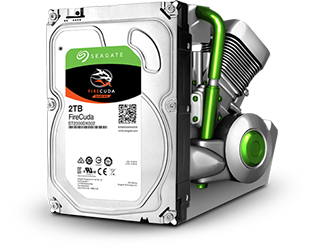 Ferocious Performance
Hate waiting on your game or application to load? FireCuda delivers superior performance compared to a standard hard drive, yet provides the high capacity options you've come to expect from a hard drive solution. It's the perfect upgrade for gamers, creative professionals and PC enthusiasts.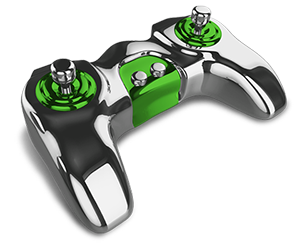 Richer Gaming Experience
FireCuda delivers faster load speeds for nonstop performance and play
Save time with a drive that boots in seconds, not minutes
Get in the game up to 5× faster than traditional hard drives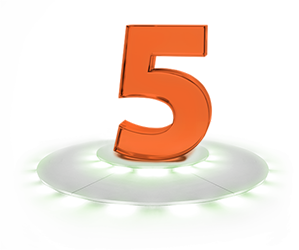 Tireless Durability
Don't fret about Seagate storage reliability. FireCuda Flash Accelerated drives are backed by an industry-best 5-year limited warranty. A warranty that beats most competitive drive warranties by up to 2 or 3 years. The cutting edge has never felt so safe.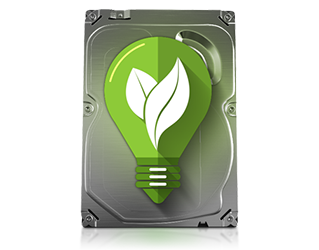 Efficient Power Savings
Potentially lower your overall costs and increase your capabilities with the FireCuda. FireCuda 2.5-inch flash-accelerated hard drives are performance-tuned to draw less power than competitors' offerings. Reducing power consumption and heat generation helps increase system performance and improve durability, especially when playing games and running multiple applications.
Flash-accelerated HDD technology allows the hard drive to limit drive access, saving power
Lower power components create less heat—resulting in better frame rates and computer performance
Superior Storage
Games are getting better and videos are getting sharper. With up to 2TB of storage, FireCuda makes deleting games and files—to free up disk space—a thing of the past. Perfect for gamers and creative professionals who want it all, now.
Enjoy up to 2TB of space on 2.5- and 3.5-inch HDDs
Eliminate the need to uninstall games in order to make room for new ones
Store up to 40 games per TB (at 25GB per game) with the 2TB FireCuda hard drives!
Multi-Tier Caching Technology:
How Layering an Application's Cache Improves Performance
Modern data storage needs go far beyond just computing. From creative professional environments to desktop systems, Seagate provides solutions for almost any application that requires large volumes of storage. As a leader in NAND, hybrid, SMR and conventional magnetic recording technologies, Seagate applies different levels of caching and media optimization to benefit performance and capacity. Multi-Tier Caching (MTC) Technology brings the highest performance and areal density to a multitude of applications. Each Seagate product is uniquely tailored to meet the performance requirements of a specific use case with the right memory, NAND, and media type and size. This paper explains how MTC Technology works to optimize hard drive performance.
MTC Technology: Key Advantages
Capacity requirements can vary greatly from business to business. While the fastest performance can be achieved using Dynamic Random Access Memory (DRAM) cache, the data in the DRAM is not persistent through power cycles and DRAM is very expensive compared to other media. NAND flash data survives through power cycles but it is still very expensive compared to a magnetic storage medium. Magnetic storage media cache offers good performance at a very low cost. On the downside, media cache takes away overall disk drive capacity from PMR or SMR main store media.
MTC Technology solves this dilemma by using these diverse media components in combination to offer different levels of performance and capacity at varying price points. By carefully tuning firmware with appropriate cache types and sizes, the end user can experience excellent overall system performance. Since the disk drive on-board controller manages the data flow, the operating system and application work seamlessly in executing read/write operations.
MTC Technology is the performance solution for the best daily end user experience.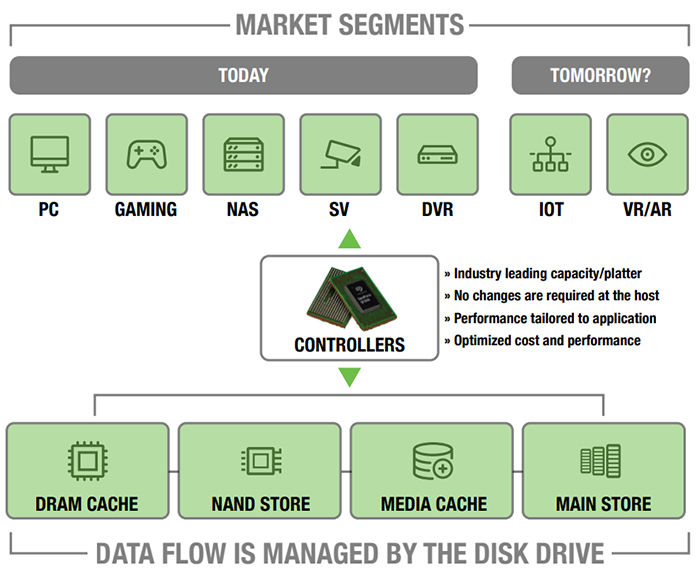 Single-Tier vs. Multi-Tier Caching
Traditional disk drives use single-tier cache to speed up data flow from the host to the magnetic media main store—also known as permanent storage. In this scheme, shown in Figure 2, DRAM serves many purposes. A small DRAM buffers randomly written data and reorders them before writing to the main store. Reducing the number of seeks during a write improves random write performance significantly. During sequential write operations, such as streaming, DRAM helps to minimize fragmented writes by merging writes to disk. DRAM also serves as a read look-ahead cache, which can help certain random read operations. However, due to the limited size of the DRAM, the benefit of the read look-ahead cache is limited.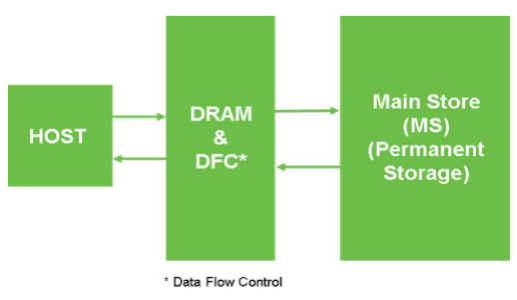 Figure 2. Traditional HDD Caching Data Flow
MTC technology adds various caching layers to further improve both read and write performances. Depending on Seagate's implementation, some or all of the caching tiers can be utilized for a specific product. In data shown in Figure 3, NAND flash and Media cache layers are added to provide additional performance boost. In this example, NAND flash is used to store most-often-read data to increase read performance while media cache is used to merge small block writes. Since the NAND flash size is in the order of gigabytes compared to the hundreds of megabytes found on DRAM, cache hit is higher by order of 100 times. For fragmented write operations, media cache boosts performance as DRAM reaches its limit. Media cache can sustain a near-sequential data rate of up to scores of gigabytes to better handle burst workloads. All user data are protected and moved in and out of the main store storage without host intervention, making the MTC Technology completely transparent to the user.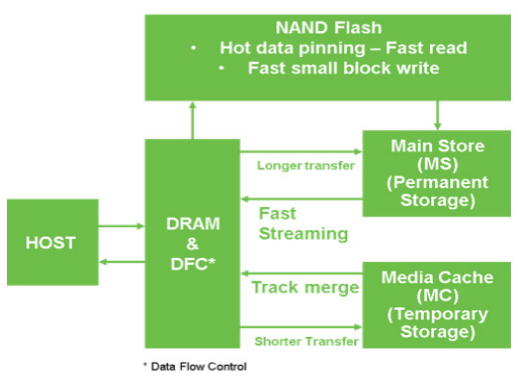 Figure 3. MTC Technology HDD Caching Data Flow
MTC Technology: Understanding the Layers of Performance and Capacity
As each layer of caching has an associated cost per storage unit, it is important to understand the performance metric of each component as well as the practical capacity provided by each component. Figure 4 shows the approximate buffering/storage capacity, performance metric as well as unique performance characteristics of each component. Combination of these components and firmware implementation are used to optimize the performance and capacity requirements for a given application.


Figure 4. Capacity + Performance + Unique Characteristics + Firmware = High-Functioning Storage
Terms and Definitions
MTC Technology (Multi-Tier Caching Technology) – Seagate's trademarked caching scheme which utilizes multiple memory schemes and firmware to optimize data flow to enhance both read and write performance.
PMR – Perpendicular magnetic recording
SMR – Shingled magnetic recording
MC (Media Cache) – A temporary non-user addressable storage on magnetic media used to buffer incoming or outgoing data.
MS (Main Store) – A permanent user addressable storage on magnetic storage. Data can be either storage on PMR or SMR media.
DRAM (Dynamic Random Access Memory) – Volatile memory used to temporarily store data for computing purpose.
NAND Flash – Non-volatile solid state memory used to store bulk data.
MTC Technology Media Cache & Main Store Usage Cases
The usage of media cache and main store based on each application is illustrated in Table 1. Each application has typical data storage usage noted by file size and its inherent workload characteristics by sequential write, sequential read, random write and random read. These file sizes and workload characteristics drive cache size and type requirements. For example, compute environment deals with small files that are written and read randomly on the HDD. This workload is characterized by high likelihood of random write and random read. Media cache and other caching usages can be high, while the main store data storage requirement is fairly low. By contrast, single-drive surveillance applications deal with large files that are highly sequential read and write. This workload doesn't require much media cache to boost performance. It does, however, require lots of main store data storage capacity.

Conclusion
Seagate is committed to delivering storage solutions with the highest performance and capacity available. Unique to the Seagate brand, MTC Technology breaks barriers by leveraging media cache, NAND and DRAM in a variety of hard drives for high-performance workloads. BarraCuda Pro, the essential HDD for creative professionals and high-performance desktops, is an excellent example of a drive that hits a high sequential data rate thanks to MTC Technology. Due to the adaptability and affordability of a MTC Technology approach, individuals and small and medium businesses alike can hone in on the full capabilities of their storage drive—ultimately leading to faster and more efficient workflows.
Specifications:
Specifications
2TB
1TB
500GB
Standard Model Number
ST2000LX001
ST1000LX015
ST500LX025
Interface
SATA 6Gb/s
SATA 6Gb/s
SATA 6Gb/s
Form Factor (in)
2.5
2.5
2.5
Performance
Bytes per Sector (logical/physical)
512/4096
512/4096
512/4096
Data Transfer Rate (MB/s)
Up to 140
Up to 140
Up to 140
Versus 2.5-in. 5400-RPM/7200-RPM HDD
Game Load Test2
Application Load Test3
Windows 7 Boot Time4

140% Faster/50% Faster
450% Faster/300% Faster
35% Faster/25% Faster

140% Faster/50% Faster
450% Faster/300% Faster
35% Faster/25% Faster

140% Faster/50% Faster
450% Faster/300% Faster
35% Faster/25% Faster
Reliability / Data Integrity
Load/Unload Cycles
600,000
600,000
600,000
Head-Rest Method
QuietStep Ramp Load
QuietStep Ramp Load
QuietStep Ramp Load
Nonrecoverable Read Errors per Bits Read, Max
1 per 10E14
1 per 10E14
1 per 10E14
Limited Warranty (years)
5
5
5
Power Management
Startup Current (+5V, A)
1.0
1.0
1.0
Read/Writer Power, Average (W)
1.7/1.8
1.6/1.7
1.6/1.7
Idle Power, Average (W)
0.5
0.45
0.45
Environmental/Temperature
Temperature, Operating (°C)
0 to 60°C
0 to 60°C
0 to 60°C
Temperature, Nonoperating (°C)
−40 to 70°C
−40 to 70°C
−40 to 70°C
Shock, Operating: 2ms (Gs)
400
400
400
Shock, Nonoperating: 1ms (Gs)
1000
1000
1000
Acoustics, Idle, Typical (bels—sound power)
2.2
2.0
2.0
Acoustics, Seek, Typical (bels—sound power)
2.4
2.2
2.2
Physical
Height (mm/in)
7.0mm/0.276in
7.0mm/0.276in
7.0mm/0.276in
Width (mm/in)
69.85mm/2.750in
69.85mm/2.750in
69.85mm/2.750in
Depth (mm/in)
100.35mm/3.951in
100.35mm/3.951in
100.35mm/3.951in
Weight (g/lb, max)
96g/0.212lb
92g/0.203lb
92g/0.203lb
Carton Unit Quantity
50
50
50
Cartons per Pallet/Cartons per Layer
60 / 10
60 / 10
60 / 10
Special Features
Halogen Free
Yes
Yes
Yes
RoHS Compliance
Yes
Yes
Yes
1 One gigabyte, or GB, equals one billion bytes and one terabyte, or TB, equals one trillion bytes when referring to drive capacity.
2 Testing conducted by Seagate using PCMark 7 system storage gaming test. Results have been rounded for display purposes. HDD performance may vary by brand, model and application.
3 Testing conducted by Seagate using PCMark 7 system storage starting applications test. Results have been rounded for display purposes. HDD performance may vary by brand, model and application.
4 Testing conducted by Seagate using Intel Core i5-based with Intel QM77 chipset laptop and configured with 8GB RAM. Tested using Microsoft utility. Results have been rounded for display purposes. HDD performance may vary by brand, model and application.
5 Extended warranty products available. Consult your distributor for details.