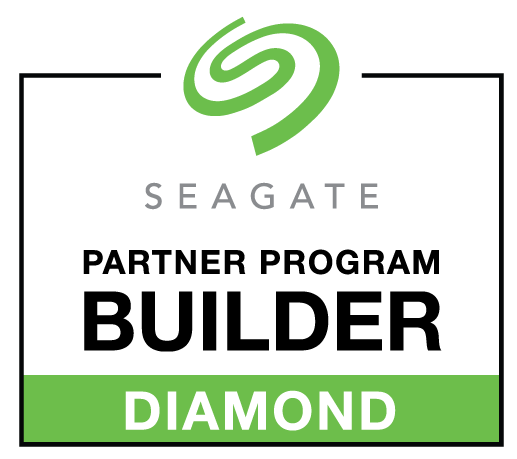 Seagate Exos X10 3.5-Inch Internal 4Kn SAS Enterprise Hard Drive

Perfect for storage-intensive workloads, OLTP, Hadoop, Ceph and HPC applications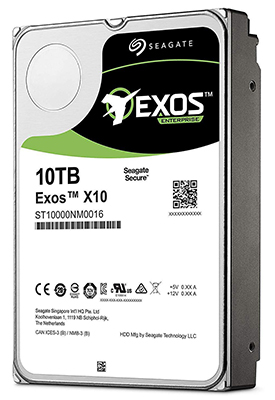 Sorry, this product is no longer available, please contact us for a replacement.
Overview:
Scalable. Responsive. Innovative.
For everything hyperscale, there's Exos X— the most powerful way to access the datasphere and harness the full potential of the cloud. Exos X16, Exos X12, and Exos X10 enterprise hard drives integrate the latest technology in support of a scalable, secure, and reliable cloud data center. Specifically designed to work in highly scalable environments requiring low power consumption and weight, the Exos X series hard drives perform consistently while scaling to meet the stringent TCO requirements of most cloud-based data centers.
Exos X10 Series
The Seagate Exos™ X10 hard drive includes 10TB and 8TB secure, high-capacity, high-performance enterprise hard drives optimized for demanding hyperscale applications for maximum TCO savings.
Stores up to 9PB in a single 42U rack with helium technology
Advanced Write Caching provides a 20% performance boost*
Perfect for OLTP and HPC applications
Hyperscale SATA model tuned for large data transfers
Proven reliability backed by 2.5M-hr MTBF
Lowest 10TB power consumption
Up to 6% savings per rack per year* 
Best-Fit Applications
Hyperscale applications/cloud data centers
Massive scale-out data centers
OLTP and HPC applications
High-capacity density RAID storage
Mainstream enterprise external storage arrays
Distributed file systems, including Hadoop and Ceph
Enterprise backup and restore— D2D, virtual tape
Centralized surveillance
* Compared to 8TB competitive product.
Features:
Maximum Storage Capacity for High Rack Space Efficiency
The Exos X10 enterprise hard drives support up to 10TB per drive,1 providing 25% more petabytes per rack.2 High storage densities allow the latest technology and greatest efficiencies to help catalyze the datasphere, enabling data center architects and IT professionals to deliver trusted performance, rock-solid reliability, ironclad security and low TCO for demanding 24×7 operations.
Industry's Highest Performance Combined With the Lowest Power and Weight for Lower TCO
Exos X10 drives offer the industry's highest 10TB hard drive performance with advanced write caching, making it perfect for OLTP, Hadoop, Ceph and HPC applications. The hyperscale SATA model is tuned for large data transfers and offers a 20% boost in random write performance.2 Experience the industry's best in IOPS/watt by optimizing your storage with Seagate's PowerBalance™ feature.
Innovative Helium Design
The proven, enterprise-class Exos X10 is backed by a 2.5M-hour MTBF. Built on a wroughtaluminum base, the helium-sealed drive design with no porosity and uniform density is engineered with superior material and a wide-weld design, and utilizes the latest hermetic interconnect technology to support higher data rate heads and higher pin counts to excel in extreme thermal conditions in a robust storage infrastructure. These Seagate X class hard drives provide digital environmental sensors that measure internal humidity, pressure and temperature, to help ensure high reliability and performance.


Enhanced Enterprise Reliability, Data Protection and Security
The Exos X10 hard drives offer advanced security features that help protect data where it lives—on the drive. Advanced security levels to prevent unauthorized access to a drive and safeguard stored data include Seagate Downloads & Diagnostics, TCG-compliant SelfEncrypting Drive and government-grade FIPS/Common Criteria tamper-resistent hard drive.3 Seagate Secure™ drives simplify drive repurposing and disposal, help protect data-at-rest, and comply with corporate and federal data security mandates.
1 Seagate recommends validating your configuration with your HBA/RAID controller manufacturer to ensure full capacity capabilities.
2 Compared to 8TB competitive product.
3 Self-Encrypting Drives (SED) are not available in all models or countries. May require TCG-compliant host or controller support.
Specifications:
Specifications - 4K Native
12Gb/s SAS Standard
10TB
8TB
Standard Model1
ST10000NM0206
ST8000NM0156
Hyperscale Model1
—
—
SED Model1,2
ST10000NM0226
—
SED-FIPS/Common Criteria Model1,2,3
ST10000NM0246
—
Features
Helium Sealed-Drive Design With Wide Weld
Yes
Yes
Digital Environmental Sensors
Yes
Yes
Protection Information (T10 DIF)
Yes
Yes
SuperParity
Yes
Yes
PowerChoice™/PowerBalance™ Technology
Yes
Yes
Low Halogen/Hot-Plug Support4
Yes
Yes
Cache, Multisegmented (MB)
256
256
Organic Solderability Preservative
Yes
Yes
Reliability / Data Integrity
Mean Time Between Failures (MTBF, hours)
2,500,000hr
2,500,000hr
Reliability Rating @ Full 24×7 Operation (AFR)
0.35%
0.35%
Nonrecoverable Read Errors per Bits Read
1 sector per 10E15
1 sector per 10E15
Power-On Hours per Year (24×7)
8760
8760
Sector Size (Bytes per Sector)
4096, 4160, 4224
4096, 4160, 4224
Limited Warranty (years)
5
5
Performance
Spindle Speed (RPM)
7200RPM
7200RPM
Interface Access Speed (Gb/s)
12.0, 6.0, 3.0
12.0, 6.0, 3.0
Max. Sustained Transfer Rate OD (MB/s)
249MB/s
249MB/s
Random Read/Write 4K QD16 WCD (IOPS)
170, 370
170, 370
Average Latency (ms)
4.16
4.16
Interface Ports
Dual
Dual
Rotation Vibration @ 1500 Hz (rad/s²)
12.5
12.5
Power Consumption
Idle A (W) Average
6W
5.5W
Max Operating Power, Random Write (WCD) 4K/4Q RR50% / RW50%
9.0
9.0
Max Operating Power, Random Read 4K/16Q (W)
9.4
9.4
Power Supply Requirements
+12 V and +5 V
+12 V and +5 V
Environmental/Temperature
Temperature, Operating (°C)
5°C – 60°C
5°C – 60°C
Vibration, Nonoperating: 10Hz to 500Hz (Grms)
2.27
2.27
Shock, Operating 2ms (Read/Write) (Gs)
70/40Gs
70/40Gs
Shock, Nonoperating, 1ms/2ms (Gs)
250
250
Physical
Height (mm/in, max)2
26.11mm/1.028in
26.11mm/1.028in
Width (mm/in, max)2
101.85mm/4.010in
101.85mm/4.010in
Depth (mm/in, max)2
147.0mm/5.787in
147.0mm/5.787in
Weight (g/lb)
650g/1.433lb
650g/1.433lb
Carton Unit Quantity
20
20
Cartons per Pallet/Cartons per Layer
40 / 8
40 / 8
1 Invoice SPA required for most SED and SED-FIPS models.
2 Self-Encrypting Drives (SED) and FIPS 140-2 Validated drives are not available in all models or countries. May require TCG-compliant host or controller support.
3 See FIPS 140-2 Level 2 Certificate at: http://csrc.nist.gov/groups/STM/cmvp/documents/140-1/1401val2011.htm#1635
4 Supports Hotplug operation per Serial ATA Revision 2.6 specification.
5 These base deck dimensions conform to the Small Form Factor Standard (SFF-8301) found at www.sffcommittee.org. For connector-related dimensions, see SFF-8323.