Seagate Exos 7E2 3.5-Inch Internal SATA Enterprise Hard Drive

Perfect for most economical enterprise drive per spindle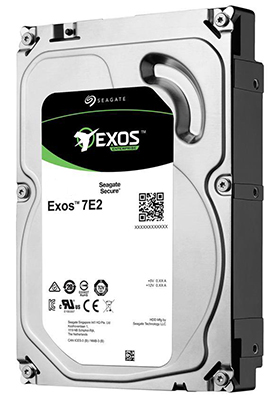 Sorry, this product is no longer available, please contact us for a replacement.
Overview:
Trusted. Efficient. Versatile.
For everything Enterprise storage, there's Exos E—the safest and most powerful way to traverse the datasphere and harness its full potential. Always on and always working, the Exos E series of hard drives is loaded with advanced options for optimal performance, reliability, security and user-definable storage management. Built on generations of industry-defining innovation, Exos E is designed to work and perform consistently in enterprise-class workloads.
Enterprise Durability Within Reach
The Seagate Exos™ 7E2 enterprise hard drives with 1TB and 2TB capacities are specifically designed to address the needs of storing unstructured data cost-effectively. The traditional 512-native format with a 6Gb/s SATA interface ensures easy integration into legacy storage servers and systems.
1TB and 2TB, 3.5-inch Exos 7E2 series enterprise drives are industry-leading hard drives with ninth-generation nearline technology.*
SATA 6Gb/s interface (512 native) for easy integration into 512 native legacy systems
Engineered for reliable 24×7 unstructured data workloads of 550TB/yr
Industry-leading rotational vibration for consistent performance in multi-drive systems
On-demand PowerChoice™ feature enables lower power options
Best-Fit Applications
Legacy mainstream applications requiring 512n block size
Hyperscale applications/cloud data centers with replicated storage
Scale-out data centers and Big Data analytics
High-capacity density RAID storage
Mainstream enterprise external storage arrays (SAN, NAS, DAS)
Distributed file systems, including Hadoop and Ceph
Enterprise backup and restore— D2D, virtual tape
Centralized surveillance
* Formerly Enterprise Capacity 3.5 HDD, version 5.1
Features:
Reliable Data Center-Grade Hard Drive Within Reach
The Exos 7E2 hard drives support up to 2TB per drive,1 offering economical storage for traditional 512-native infrastructures requiring a highly reliable enterprise hard drive. Exos 7E2 provides the most cost-effective, reliable access to unstructured data in bulk storage applications. Built on field-proven 9th generation conventional magnetic recording (CMR) technology, the Exos 7E8 drive helps to catalyze the datasphere, enabling data center architects and IT professionals to deliver trusted performance, rocksolid reliability, ironclad security and low TCO for demanding 24×7 operations.
Robust Bulk Data Storage for a 24×7 World
The Exos 7E2 hard drives are proven, enterprise-class hard drives with enterprise-grade reliability backed by a 2 million hour MTBF rating. With state-of-the-art cache, on the fly error-correction algorithms and rotational vibration design, the Exos 7E2 helps ensure consistent performance in replicated and RAID multi-drive systems.
Consistent, High Performance and Compatibility for Legacy Data Center Applications
Meet your storage workload requirements with the most efficient and cost-effective SATA 6Gb/s drive in a 3.5-inch data center footprint. With user-definable innovative technology advancements like PowerChoice™ and Seagate RAID Rebuild, you can tailor your bulk storage requirements for even greater improvements in your TCO.
Enhanced Enterprise Reliability, Data Protection and Security
The Exos 7E2 series delivers firmware security features to help protect data where it lives—on the drive. Exos 7E2 hard drives safeguard firmware with authentic Secure Downloads & Diagnostics.
1 Seagate recommends validating your configuaration with your HBA/RAID controller manufacturer to ensure full capacity capabilities.
Specifications:
Specifications
2TB
1TB
Base Model
ST2000NM0008
ST1000NM0008
Features
SuperParity
Yes
Yes
Low Halogen
Yes
Yes
PowerChoice™ Technology
Yes
Yes
Seagate RAID Rebuild Technology
Yes
Yes
SD&D Firmware Security
Yes
Yes
Cache
128MB
128MB
Reliability / Data Integrity
Vibration, Nonoperating: 10Hz to 500Hz (Grms)
5
5
Mean Time Between Failures (MTBF, hours)
2,000,000
2,000,000
Reliability Rating @ Full 24×7 Operation (AFR)
0.44%
0.44%
Nonrecoverable Read Errors per Bits Read, Max
1 sector per 10E15
1 sector per 10E15
Power-On Hours per Year (24×7)
8760
8760
Bytes per Sector
512
512
Limited Warranty (years)
5
5
Performance
Spindle Speed (RPM)
7200
7200
Interface Access Speed (Gb/s)
6.0, 3.0, 1.5
6.0, 3.0, 1.5
Max. Sustained Transfer Rate OD (MB/s,MiB/s)
194
194
Average Latency (ms)
4.16
4.16
Interface Ports
Single
Single
Rotation Vibration @ 1500 Hz (rad/s²)
12.5
12.5
Power Consumption
Idle Power, Average (W)
4.7
4.7
Typical Operating (W)
7.0
7.0
Power Supply Requirements
+12 V and +5 V
+12 V and +5 V
Environmental/Temperature
Temperature, Operating (°C)
5°C – 60°C
5°C – 60°C
Shock, Operating 2ms (Read/Write) (Gs)
70/40Gs
70/40Gs
Shock, Nonoperating, 1ms/2ms (Gs)
200 / 300
200 / 300
Physical
Height (mm/in, max)1
26.1mm/1.028in
26.1mm/1.028in
Width (mm/in, max)1
101.85mm/4.010in
101.85mm/4.010in
Depth (mm/in, max)1
147.00mm/5.787in
147.00mm/5.787in
Weight (g/lb)
550g/1.212lb
550g/1.212lb
Carton Unit Quantity
20
20
Cartons per Pallet
40
40
Cartons per Layer
8
8
1 These base deck dimensions conform to the Small Form Factor Standard (SFF-8201) found at www.sffcommittee.org. For connector-related dimensions, see SFF-8223